Resources for Hospital Professionals
Below are resources to reference and guide you throughout the donation process. Please don't hesitate to call your LifeSource Hospital Liaison for general information or call LifeSource at 1-800-247-4273 for real-time assistance.
Your Role: The Step-by-Step Donation Process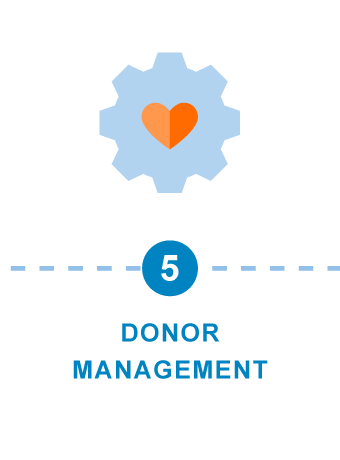 Referral Number: 1-800-24-SHARE (1-800-247-4273)
Call LifeSource within ONE HOUR if patient meets any of the following triggers:
Ventilator dependent patient with a neurological injury or non-survivable illness AND:

Loss of two or more brain stem reflexes OR;
Prior to ANY end-of-life conversation OR;
Anticipated withdrawal of life-sustaining support

Family mentions donation
Cardiac death
Download the Clinical Trigger card
What to Provide
At the time of your referral call, have the patient's medical record available to provide the following information:
Your name, unit location, phone number, hospital name
Patient name, age, date of birth, state of residence, gender, race, weight, medical record number
Whether the patient is currently on a ventilator
If the patient is not currently on a ventilator, were they in the past? If so, date and time of extubation
Date and time of death
Cause/nature of death
Whether or not the patient has had Sepsis, Hepatitis B/C, HIV/AIDS, Cancer, Alzheimer's or Parkinson's
Whether or not the family has mentioned donation
If the patient meets the initial donation criteria, additional medical information will be requested, such as white count, temperature, medications, etc. The patient's donor designation status will be verified by LifeSource at this time.
When Brain Death is Declared (if circulatory death is declared, see below)
Brain death is the irreversible cessation of all brain activity, including the brain and brainstem. The brain dies from lack of blood/oxygenation. Most organ donation occurs after brain death declaration. A hospital physician, in accordance with accepted medical standards and following the hospital policy, must make the diagnosis of brain death.
Note: LifeSource does not declare brain death.
The time of brain death determination is the legal time of death. The physician who declares brain death cannot be the physician who recovers the donated organs.
If Donation after Circulatory Death is Declared
Circulatory death is the irreversible cessation of all circulatory and respiratory function. Circulation and oxygenation stops. Patients who die of circulatory death can donate tissue and eyes and, in some cases, organs.
In order for Donation after Circulatory Death (DCD) to occur, the following circumstances must exist:
Permanent and irreversible neurological injury (i.e. upper spinal cord injury)
Permanent and irreversible disease (i.e. end-stage musculoskeletal or pulmonary disease)
Life-sustaining medical treatment/ventilator support necessary
Planned withdrawal of life-sustaining medical treatment/ventilator support
In these situations, organ recovery occurs only after support is withdrawn and after circulatory death is pronounced.
Download Quick Reference: The Difference between Brain Death and Circulatory Death (PDF)
Learn more about Brain Death (BD) and Donation after Circulatory Death (DCD).
A Document of Gift, otherwise known as donor designation, establishes the intent of the person making the gift and serves as legal authorization for donation. This designation may be made in an advanced directive, living will, state ID card, driver's license or online registry.
Although authorization from the next-of-kin is not required, the LifeSource coordinator will provide information to the next-of-kin about the donation process and offer the same level of support and follow-up care that would be offered to any donor family.
See our "Check the Box" public awareness campaign.
Supporting the family through the donation process takes all of us. LifeSource staff, trained in family conversations, will guide the family through the donation process and handle any discussions around donation opportunities.
If a family mentions donation, acknowledge the donation questions, but connect the family with the LifeSource staff member in-person or over the phone.
Your support for the family is so critical throughout the discussions and process. If at all possible, please partner closely with the LifeSource team to best support the grieving family.
The goal of clinical donor management is to optimize and maintain organ function. Donor management begins when brain death has been declared and authorization or donor designation for organ donation has been obtained. Donor management does not occur in patients who have been determined to be suitable candidates for donation after circulatory death (DCD). A LifeSource Donation Coordinator will work closely with you to begin donor management.
Donor Management Goals:
Goals include:
SBP>90 (MAP>60)
EF ≥ 50%
PaO2 >300 on FiO2 100%
pH 7.35-7.50
CVP 4-10
Glucose < 180
≤ one vasopressor
Na ≤ 155
U.O. at least 0.5 ml/kg/hr
In the event of cardiac arrest after brain death declaration, full resuscitative efforts should be made and LifeSource should be contacted. If resuscitative efforts fail, tissue and eye donation may still be an opportunity.
Catastrophic Brain Injury Guidelines
For those patients who have not been declared brain dead, LifeSource recommends the Catastrophic Brain Injury Guidelines (CBIGs) to avoid the instability of patients prior to and during brain death and to preserve the opportunity for donation & successful organ transplants.
The guidelines were developed by a Trauma Surgeon and ED Physician out of Midwest Organ Transplant. They developed management guidelines based on the Surviving Sepsis Campaign with the goal to save more lives and preserve the opportunity for donation. Consider obtaining a critical care consult if not already involved in patient care.
Cooling the Body – Eye & Tissue Donors
You play a critical role in preserving donation opportunities when your patient is going to be a tissue or tissue and eye donor. Cooling the patient is the most important thing you can do. If your hospital has a cooled morgue, we recommend you move the patient there as soon as possible and preferably within 12 hours of the time of death. It's also important to note the time that the patient arrived in the morgue so that our donation specialists can accurately document this.
The American Association of Tissue Bank standards along with FDA regulations mandate that if tissue recovery cannot take place within 15 hours of death, the body must be cooled. LifeSource will only ask you to cool the body when absolutely necessary.
If your hospital does not have a cooled morgue, we suggest that you place ice on the patient to adequately cool them until the recovery team arrives. The donation specialist will work closely with you over the telephone to explain how to complete this procedure. See reimbursement guidelines.
Instructions
Obtain 40# of ice from ice machine and fill four large plastic bags with ~10# each; tie shut.
Remove clothing and place patient in a body bag. You may wish to place the patient in two bags, one inside the other.
Place a light covering or sheet over the patient.
Place both hands on the abdomen with one bag of ice on each hand.
Arrange the bags of ice on the torso and legs of the patient, two on each side.
If eye donation is pending, partially fill gloves with ice, paper tape eyes vertically, adequately placed bags over the eyes, ensuring that the lids are closed. Elevate the head 30 degrees.
Zip the bag closed and place blankets over the patient to insulate the area.
Turn down the room temperature if possible.
Check the ice every 2 hours and replace if necessary.
Call 1.800.247.4273 with any questions about this process.
LifeSource staff will work closely with the Operating Room staff to coordinate organ recovery surgery.
Training Video for Hospital Staff
Check out this video to better understand your role in the donation process, how to identify triggers for donation and how to be an advocate for potential donation.
Additional Resources
For more information regarding donation and our work at LifeSource, check out these resources.
LifeSource acknowledges everyone's participation at huddles and makes sure everyone on the hospital staff is prepared. The letter our unit receives after the donation acknowledges each hospital team member by name, thanking them. After being through such a rough experience, this fills us up, to know so many people were helped.

Nurse Manager of a Donor Hospital
Have Questions?
Reach out to your LifeSource liaison.
Our hospital liaisons are a resource for more than 270 hospitals in our region. They help hospitals maintain their donation programs by assisting with policy and protocol development, analyzing data, preparing for regulatory surveys and providing education on the donation process.
Stay Up-to-Date
Subscribe to the professional partners newsletter!
Be in-the-know on the industry's clinical innovations, get answers to your most frequently asked questions and be inspired by those who have made more life possible.